Careers in the Adelaide Electronics Industry 
The Adelaide Electronics Industry offers careers at all levels of education and training. Courses range from apprenticeships to graduate and postgraduate university level and are available on a fulltime or part time basis from TAFE and all three of the universities in Adelaide. Many courses can be completed while working, often with some time release by employers.
The South Australian electronics industry employs mostly Certificate 3 and upwards with the TAFE Advanced Diploma being a good starting point as it can be extended with further study to university graduate degree and postgraduate level. Some employers also offer on-the-job training in product assembly and machine operation with flexible entry level requirements.
Further development of skills is encouraged by employers to ensure adequate understanding of customers' needs. Most employers will provide support for this. Qualifications, particularly university degrees are portable so overseas experience can be gained. Opportunities to start your own business are also available and a number of Adelaide companies have started this way.
The Adelaide Electronics Industry – Its Structure
The Adelaide Electronics Industry is an 'Advanced Manufacturing Industry' comprised of mostly small to medium sized companies, most of which are locally owned, so they are committed to remain in the region. These companies are very diverse in their products, offering a wide range of career opportunities.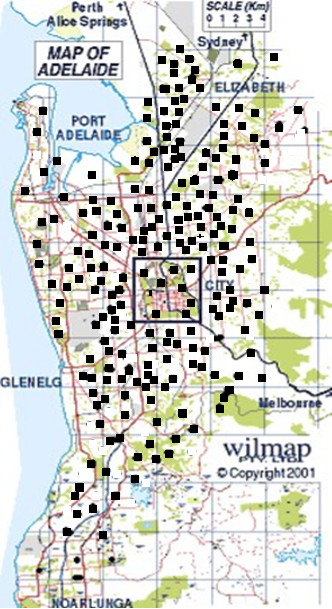 This is Adelaide's Technology City
Each dot represents an electronics company, around 300 altogether. This industry employs 11,000 people, mostly with medium to high level tertiary qualifications, who design and manufacture sophisticated equipment ranging from environmental management to diagnostic and therapeutic medical  applications. Most of the Intellectual Property is developed and owned by these companies. Intellectual property refers to the intelligence which is built into the equipment which enables it to perform tasks which give it an advantage over competitive products. This is in the form of software which is often written by electronics people. Because of its enabling and enhancing capability, electronics needs people who are not only trained in electronics but are able to understand its applications. Courses range from apprenticeships to postgraduate university qualifications and are available on a full-time or part time basis from TAFE and the universities. Many can be done whilst working, often with some time release by employers. The South Australia electronics industry employs mostly Certificate 3 and upwards with the TAFE Advanced Diploma being a good starting point as it can be built on with further study.
The Adelaide Electronics Industry – What it Does
Creates new technologies and integrates these with existing technologies to design innovative products for Australian and export markets
Provides interesting, well-paid, equal opportunity careers for engineers, technicians, trade qualified and some companies provide on-the-job training
Designs and builds really interesting high technology electronic products and systems for all industry sectors and particularly for other 'Advanced Manufacturing Industries' including:
Aerospace, Biotechnology, Defence, Education, Energy, Environment, Health, Industry, Information, Medical, Mining, Research and more.
Note: The Adelaide Electronics industry designs and builds high technology electronic products and systems and does not make TV Receivers, Microwave Ovens, iPhones or other 'Consumer Electronic Products'. These are typically made overseas in low labour-cost countries in large volumes to standard designs.
Some Adelaide Electronics Companies. For further details see company websites:
APC Technology Pty Ltd – Designs and builds rugged computer systems for harsh environments in industry, mining, security & defence applications.
Applidyne Australia Pty Ltd – Multi-disciplinary research, design and development consultants with expertise in mechanical engineering & electronics.
ATRAD Pty Ltd – Specialises in the design, development and manufacture of ground-based radar systems for airports and weather research.
Codan Ltd – Designs and builds radio communication systems. Staff of over 300 includes engineers, scientists, paraprofessionals and trade qualified.
Don Alan Pty Ltd – Electronic design engineers and manufacturers with engineers and technicians experienced in collaborative design & development.
Hendon Semiconductors Pty Ltd -Develops unique integrated circuits (ICs), printed circuit assemblies for automotive, appliances, medical and defence.
Maptek Pty Ltd – Specialising in innovative software, hardware and services for the mining industry with unique, highly accurate 3D laser scanning hardware.
Measurement Engineering Australia Pty Ltd – Design and manufacture of weather measurement, microclimate, air and water temperature systems.
Novacom Pty Ltd –  A professional engineering consultancy specialising in electronics & industrial IT design solutions in industrial, automotive, defence.
RADLogic Pty Ltd – Integrated circuit design services. High quality CMOS mixed-signal, IP development and support services for local and global customers.
Redarc Electronics Pty Ltd – Designs, develops and manufactures automotive voltage converters and inverters, power supplies and safety systems.


STEM: This stands for Science, Technology, Engineering and Mathematics. To work in the Electronics industry it is important to have a good grounding in these areas. So, when you are choosing subjects make sure you include mathematics and physics at least. Check with your School Counsellor for the best combination for the tertiary course you wish to study.

Useful Links:  Courses in Electrical and Electronic Engineering:
University of Adelaide
https://eleceng.adelaide.edu.au/
Flinders University
https://www.flinders.edu.au/study/engineering-design?gclid=EAIaIQobChMI1f6fzr2X1wIVEAYqCh3m4wRKEAAYASAAEgJXZfD_BwE
University of South Australia
http://study.unisa.edu.au/degrees/bachelor-of-engineering-honours-electrical-and-electronic
TAFE SA
https://www.tafesa.edu.au/xml/course/aw/aw_DP00062.aspx
Further research is recommended on the wide range of electronics and related courses.
Electronics Industry Development Adelaide (EIDA) promotes the development of the Electronics Industry in Adelaide as an essential core industry and employer for the broader 'Advanced Technology Industry' in South Australia.